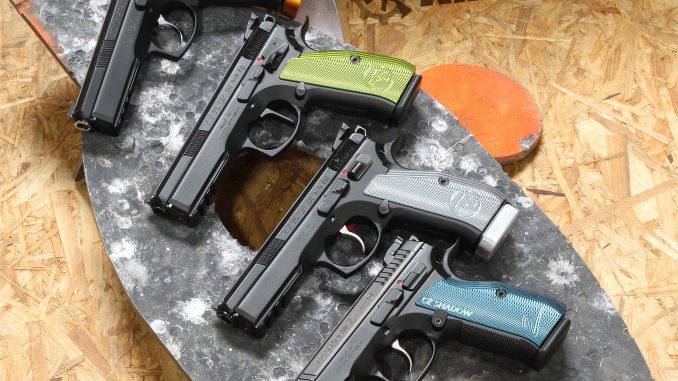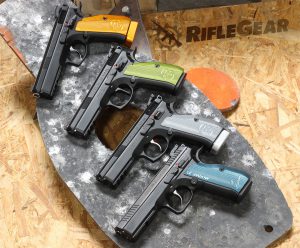 Decided to have a little photo session with employee owned CZ SP-01 and Shadow 2 pistols here at the shop. If you've ever shot a CZ pistol, you'll know how fun and accurate they can be. From stock configuration to modified there's no denying why there are so many CZ fans.
About CZ
CZ or 'Česká zbrojovka' translates to 'Czech armory,'. CZ's parent company, Česká zbrojovka a.s. Uherský Brod(CZ-UB) dates back to 1936. CZ products are imported exclusively by CZ-USA, a wholly-owned subsidiary of the parent company, CZ-UB of the Czech Republic. (source: CZ-USA)
Basic run down of the pistols below. From top to bottom:
Stock configuration
CZ-UB Aluminum Orange Grips
SP-01 Fixed Shadow Sights
No Firing Block
DA/SA Action
Cajun Gun Works(CGW) Pro-Package, Minus DA(SAO Only)
CGW Adjustable Sear
CGW Fiber Optic Sights
CZ-UB Aluminum Green Grips
Firing Pin Block Removed
CGW Aluminum SAO Trigger
CGW 13# Recoil Spring w/ SS Guide Rod
SA Only Action
CZ SP-01
CGW Pro-Package
CGW Fiber Optic Sights
12# Recoil Spring w/ SS Guide Rod
CGW 10x Barrel Bushing, Flush Barrel Crown
CZ-UB Aluminum Grey Grips
DA/SA Action
Stock Configuration
Fiber Optic/HAJO Sights
DA/SA Action
CZ S2 Aluminum Grips
Browse our selection by CZ by visiting here.