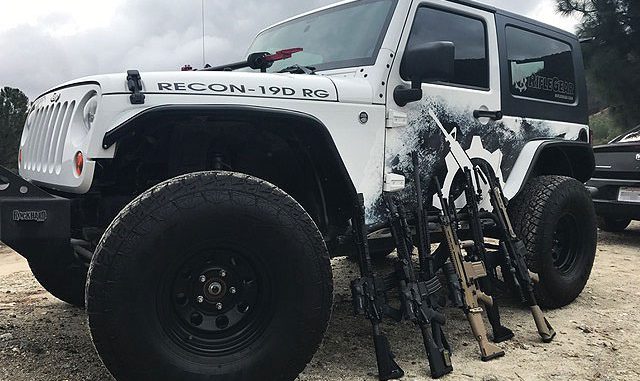 The RifleGear Fountain Valley store had a recent range trip for the New Year holiday weekend at Burro Canyon Shooting Park in Azusa, CA. It was a much needed 'rest & relaxation' trip in the aftermath of all the chaos that comes whenever anti-2A legislation passes. The only shadow that was cast over the otherwise great day were the new 2017 CA gun laws effective the day prior.
Some of you may know, California Governor Jerry Brown signed into law some of the strictest gun control measures over the summer.  Most affected were center-fire firearms that utilized a 'Bullet Button' device that fixed the magazine into place until removed via a tool. Come 2017 these firearms are no longer available for sale in the state of California and current configured rifles purchased prior to 2017 are subject to California Assault Weapon registration. After the bills had been signed, the panic buying went into full force. Wait times exceeding 5 hours were not uncommon with heavy traffic flow daily until the deadline to initiate paperwork on 2016 magazine-locked firearms.
The range day started at 9 am with one of the multiple private shooting bays. The range was 80 yards deep with enough room to allow rifle targets, clay pigeon throwing, and pistol targets.
It seemed like everyone brought everything to this range trip and tables filled up quickly. No safe queens allowed! We buy/build 'em to shoot 'em. I'll let the photos do the talking.
This trip was a great way to ring in the New Year! Thanks again to Burro Canyon for the use of your facilities.
Please visit RifleGear for all shooting needs.